News
---
Press report - Week 11
19 July 2019
Dunnington are fighting to maintain their division 1 status in the Fulford Ladies Invitation Tennis League; Emma Loten and Katy Sykes racked up 33 games as they hammered fellow strugglers Pocklington 84-24. At the other end of the table, the top two teams met with leaders York coming out as comfortable winners over Wetherby. Anna Bradshaw and Emma Foster won all their rubbers as Wigginton comprehensively beat Starbeck to remain in third position. Fulford are looking comfortable in mid table as they edged a 56-52 victory at David Lloyd.
Lesley Haley and Sheila Stuart netted 27 games for in-form Boston Spa in their convincing division 2 victory over David Lloyd. Solid scores from all three Rufforth couples saw them defeat Bishopthorpe 68-40. Leaders York were indebted to Margaret Whitehead and Jackie Eccles, who's 27 games helped them edge a 58-50 win at Wetherby. Wistow were unable to field a team against Fulford.
The top two teams, Poppleton and Cliffe, met the bottom two in division 3. Jane Pemberton and Liz Bramley took 33 games in Cliffe's 81-27 win against Bishopthorpe, whilst Rosie Cantrell and Hilary Spencer bagged 30 games in Popp's 71-37 victory over Tollerton. Knaresborough and Boston Spa couldn't be separated so are now equal on points. Wigginton edged a 55-53 win against Copmanthorpe, Sandra Burley and Kate Dance's 23 game contribution proving vital for Wig.
Division 4 leaders, Wilberfoss crushed Sutton 83-25, Ros Latham and Caroline Gaines taking 28 games for Foss. Katy Fowler and Vicky Selby-Jerrold were unbeaten for David Lloyd as they defeated Bubwith 67-41. Despite notching up 30 games, Laura Robson and Sandra Pauw were unable to prevent Rowntree Park losing out 66-42 at Heworth.
Rufforth look odds on for the division 5 title, Clare McMahon and Kate Lewis won all their rubbers to see them defeat Cawood 59-49. Linda Molloy and Alison Wigdahl bagged 30 games for second placed Dunnington as they crushed Riccall 81-27. Emily Broadbent and Ann Walker's 27 game haul eased New Earswick to a 59-49 win at Copmanthorpe.
Melanie Satterthwaite and Andrea Pitman were undefeated for Sheriff Hutton as they defeated division 6 leaders York. Karen Anderson and Angela Rothery starred for Stamford Bridge as they gained valuable points in their 59-49 win against Knaresborough.
Division 7 leaders, Wilberfoss, fell to second placed Rufforth, who's top two pairs, Wendy Farnell and Kathryn Elliot-Smith and Alison Tullie and Phoebe McKelvie both scored 27 games.
---
Pink Weekend
14 July 2019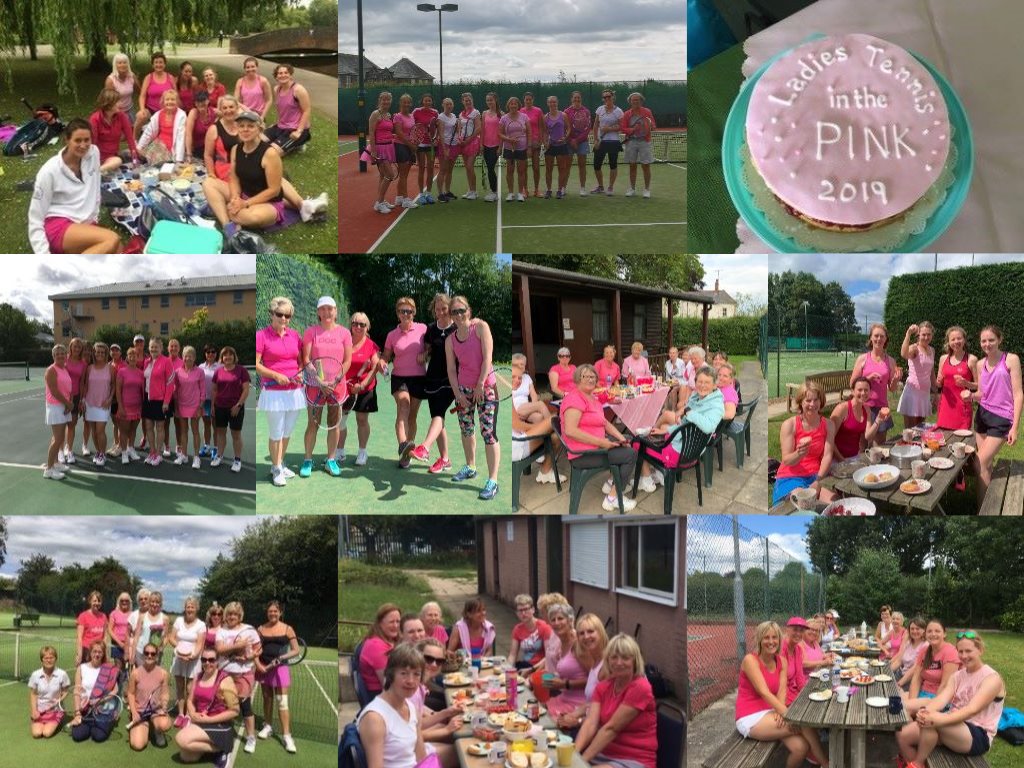 A selection of photos from Pink Weekend
The League wishes to thank all the teams that participated in 'Pink Weekend' – primarily to raise awareness and show support to all those affected by breast cancer. From various fund-raising events run in support of this event, the Ladies League have raised an amazing £612 which will be donated to breast cancer charities.
---
Press Report - Week 10
14 July 2019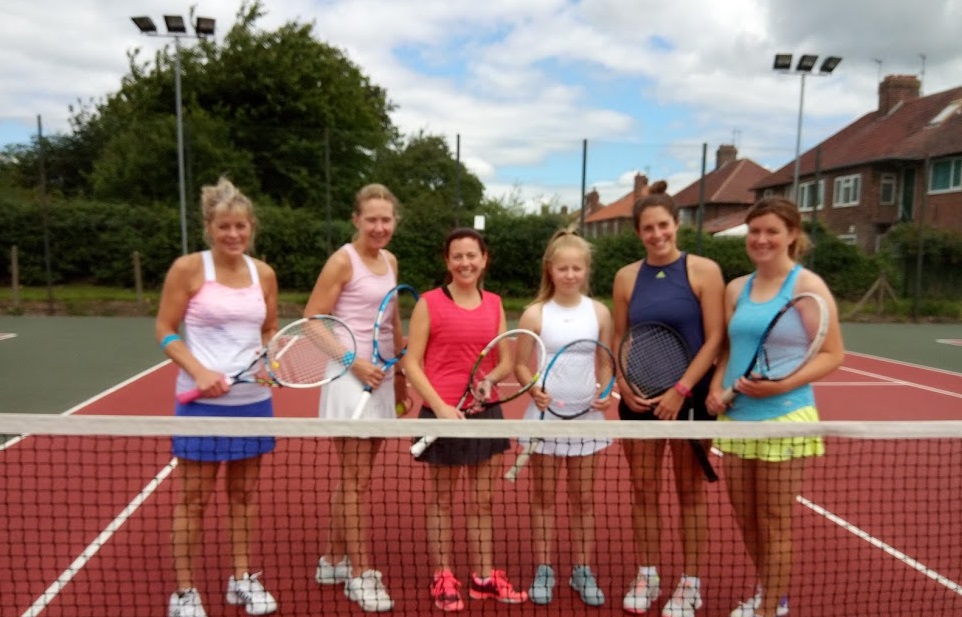 The York 1 team, who top division 1 of the Fulford Ladies Invitation Tennis League
Poppleton remain top of division 3 of the Fulford Ladies Invitation Tennis League, Liz Burdett and Jennifer Jones were undefeated as they edged a 55-53 win over Knaresborough. Cliffe are hard on their heels, Liz Bramley and Jane Pemberton racked up 25 games in their 65-43 win at Copmanthorpe.
Boston Spa moved up the table after a close fought battle with Wigginton, eventually emerging as 57-51 winners. Despite logging their first victory this season against Bishopthorpe, Tollerton remain rooted to the foot of the table.
Wetherby won all their rubbers as they trounced Pocklington in division 1, Sue Perkins and Yvonne Mannall netting 28 games in their 79-29 triumph. Fulford had a much closer margin of victory, Jill McCreedy teamed up with Georgie Stephenson to take 21 games as they squeezed past Starbeck 56-52.Louise Marshman and Wendy Stirke were in form for leaders York, taking 29 games in their 67-41 win over Wigginton. Dunnington crashed to a heavy defeat against David Lloyd, Sharon Davidson and Sarah Smelik taking 28 games in Lloyd's 81-27 win.
York seconds remain top of division 2, captain Ilianna Evangeliou and Caroline White were undefeated as the Clifton Park team beat Boston Spa 65-43. Wistow are keeping the pressure on as a solid team performance saw them overcome Bishopthorpe 60-48. Wendy Cook and Pauline Craddock bagged 30 games for Fulford in their 64-44 win against Wetherby. Denise Reilly and Maggie Zhang saw Rufforth home in a close encounter with David Lloyd, resulting in the teams trading mid tables positions.
Caz MacKender and Gerry Screeton were once again the top scorers for division 4 leaders Wilberfoss, netting 31 games in their team's 62-46 win at Heworth. David Lloyd remain second after positive scores from all their couples saw them to a comfortable win at Appleton. Zoe Walker and Vanessa Kennedy took 31 games for Rowntree Park as they trounced struggling Bubwith.
Rufforth are the runaway leaders in division 5, Vicky Wrigley and Carole Withers scored 25 games as the table toppers dispatched Copmanthorpe 63-45. Riccall prop up the division as they conceded their match at New Earswick.
Knaresborough climbed into second place in division 6 after destroying Fulford 80-28, who although they were hampered by injury, had no answer to Ros Murdoch and Helen Flynn who racked up 31 games for 'boro. Elsewhere, Poppleton beat basement club Stamford Bridge 58-50.
Liz Walker and Andrea Webster's 30 game haul inspired division 7 leaders, Wilberfoss, to a 64-44 victory against Dunnington. Chris Hanby and Lisa Payne were undefeated for Appleton as they overcame Copmanthorpe 63-45. Rufforth were unable to field a team against David Lloyd.
---
Press Report - Week 9
03 July 2019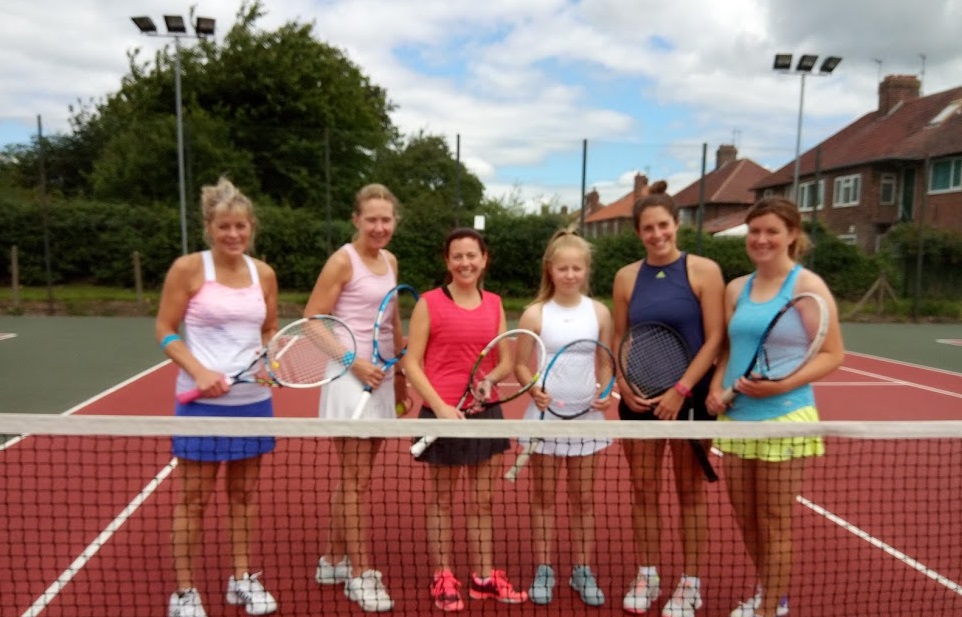 The York 1 team, who top division 1 of the Fulford Ladies Invitation Tennis League
There were big wins for Wetherby and David Lloyd in division 1 of the Fulford Ladies Invitation Tennis League. Sue Perkins and Angela Wood bagged 33 games to inspire Wetherby to an 82-26 win over Starbeck. David Lloyd didn't drop a rubber as they crushed Pocklington 81-27. Wigginton captain Eleanor Bradshaw teamed up with sister Anna to lead her team to a commendable 58-50 victory over Dunnington, even more remarkable considering Wig only had two couples. Despite falling to leaders York, Fulford put up a good fight, going down 46-62, and so claiming more games than any other team has this season against the title favourites.
York seconds remain top of division 2, all three of their couples scored twenty plus games as they cruised to a 79-29 win over Bishopthorpe. Debbie Crampton and Sarah Huggins netted 25 games for second placed Wistow as they beat Wetherby 70-38. Lorraine Peary and Lesley Haley were undefeated in Boston Spa's win at Rufforth; meanwhile, Fulford crept up to fourth place, Anna Baker and Su Watson taking 20 games in their 65-43 win at David Lloyd.
Poppleton head up division 3 following a 67-41 win at Bishopthorpe. Cliffe had a resounding win over Boston Spa, aided by a 27 game contribution from Jo Earl and Nicki Jackson. Knaresborough's good form continued as a solid team performance saw them defeat Wigginton 65-43. Tollerton are finding life tough in division 3, although Pippa Bailey and Mary Foster won 22 games it wasn't enough to prevent their team losing out at Copmanthorpe.
Wilberfoss have opened up a four-point gap at the top of division 4 after defeating Appleton Roebuck 63-45. Jo Dyer and Eva Pears scored 22 games for David Lloyd as they beat Rowntree Park. Sutton were indebted to Sally Simpson and Olivia Turner who bagged 27 games as their team edged a 56-52 victory over Bubwith.
Pam Campbell and Debbie Godwin were unbeaten for Cawood as they overcame Dunnington in division 5. Copmanthorpe climbed the table after edging a 55-53 victory at Riccall, helped by a 25 game haul from Lynn Kent and Ann Hopwood. New Earswick could only field two couples so went down heavily to Rufforth.
Millie and Georgia Ainley starred for Sheriff Hutton taking 25 games as their team squeezed past Fulford 55-53 in division 6. Helen Hatfield and Kate Harpin were undefeated for Poppleton as they logged a first win of the campaign against Knaresborough. York remain top as Stamford Bridge conceded their match against them.
All players are asked to wear something pink this coming weekend to demonstrate their support and awareness to all those affected by breast cancer.
---
Press Report - Week 3
15 May 2019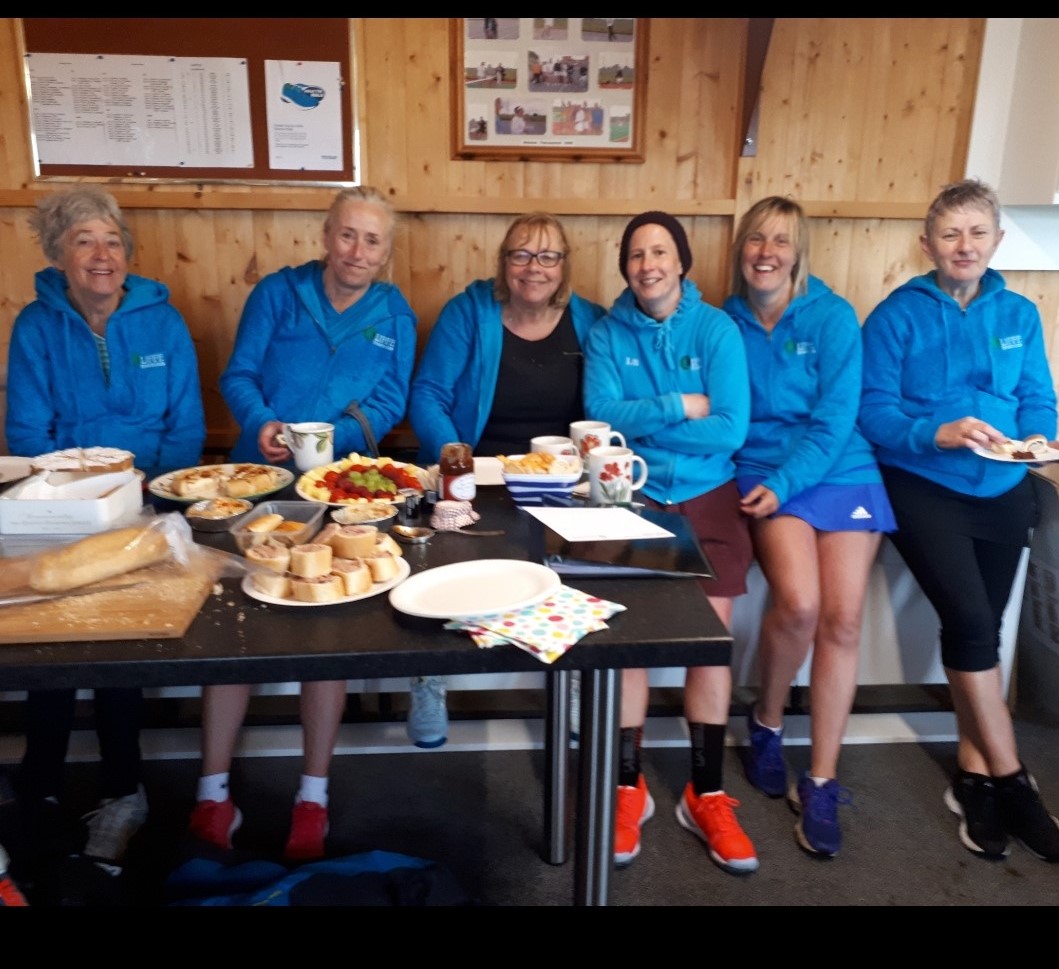 The Cliffe team, who lead division 3 of the Fulford Ladies Invitation Tennis League after comfortably beating Copmanthorpe
Cliffe top division 3 of the Fulford Ladies Invitation Tennis League after a comfortable 64-44 win against Copmanthorpe. Georgina MacKenzie and Sue Hanley top scored for Bishopthorpe as they logged their first win of the season against Tollerton. Wigginton moved into second place after edging past Boston Spa 57-51, whilst Poppleton overcame Knaresborough to stay in touch with the leaders.
York 1 captain, Jill Le Pla teamed up with Wendy Stirke to rack up 31 games in her team's division 1 defeat of second placed Wigginton. Yvonne Mannall and Lucy Wright won all their rubbers for Wetherby in their victory at Pocklington, whilst Fulford had a convincing 75-33 win against fellow div 1 newcomers, Starbeck, aided by a 29-game haul from Ellie Page and Laura Rhodes.
York seconds strong start in division 2 continued, Diletta Puddu and Denise Wilson won all their rubbers in their 75-33 win against Boston Spa. Georgie Stephenson and Sarah Richards bagged 24 games to help Fulford to their first win of the campaign at Wetherby, whilst Wistow turned in a good team performance to defeat Bishopthorpe.
David Lloyd 3 lead division 4 after edging the closest encounter of the weekend, a 56-52 victory over Appleton Roebuck. Sandra Pauw and Laura Robson were in form for Rowntree Park, contributing 26 games in Park's 63-45 triumph at Bubwith. Wilberfoss hold second place following their 66-42 defeat of Heworth.
Rufforth are the early leaders in division 5, solid scores from all three couples saw them home to victory at Copmanthorpe. Elsewhere, Alex Leach and Heather Page netted 29 games in Riccall's 67-41 win against New Earswick.
Knaresborough are top of division 6 after their 58-50 win at Fulford, meanwhile Angela Rothery and Karen Anderson inspired Stamford Bridge to victory, taking 31 games in their win at Poppleton.
Mum and daughter Kate and Anna Lewis paired up to steer Rufforth to the top of division 7 after their 63-45 victory over David Lloyd.
---
AGM Minutes 2019
3 April 2019
The minutes of the 2019 AGM are now available for download here:
---
AGM 2019
27 February 2019
The 2019 AGM will be held at 19:00 on 18 March 2019 in the clubhouse at Fulford Tennis Club.
---
Welcome to the new website!
27 February 2019
Welcome to the new website for the Fulford Ladies Invitation Tennis League. The website has some new features, including statistics, scorecard viewer and the ability to view fixtures sorted by team and by club. Many of the features won't become active until some matches have been played, so check back during the season for more information.
The 2019 season will start on the weekend of 27 April. If you need to contact the league in the meantime, please visit the contact page.